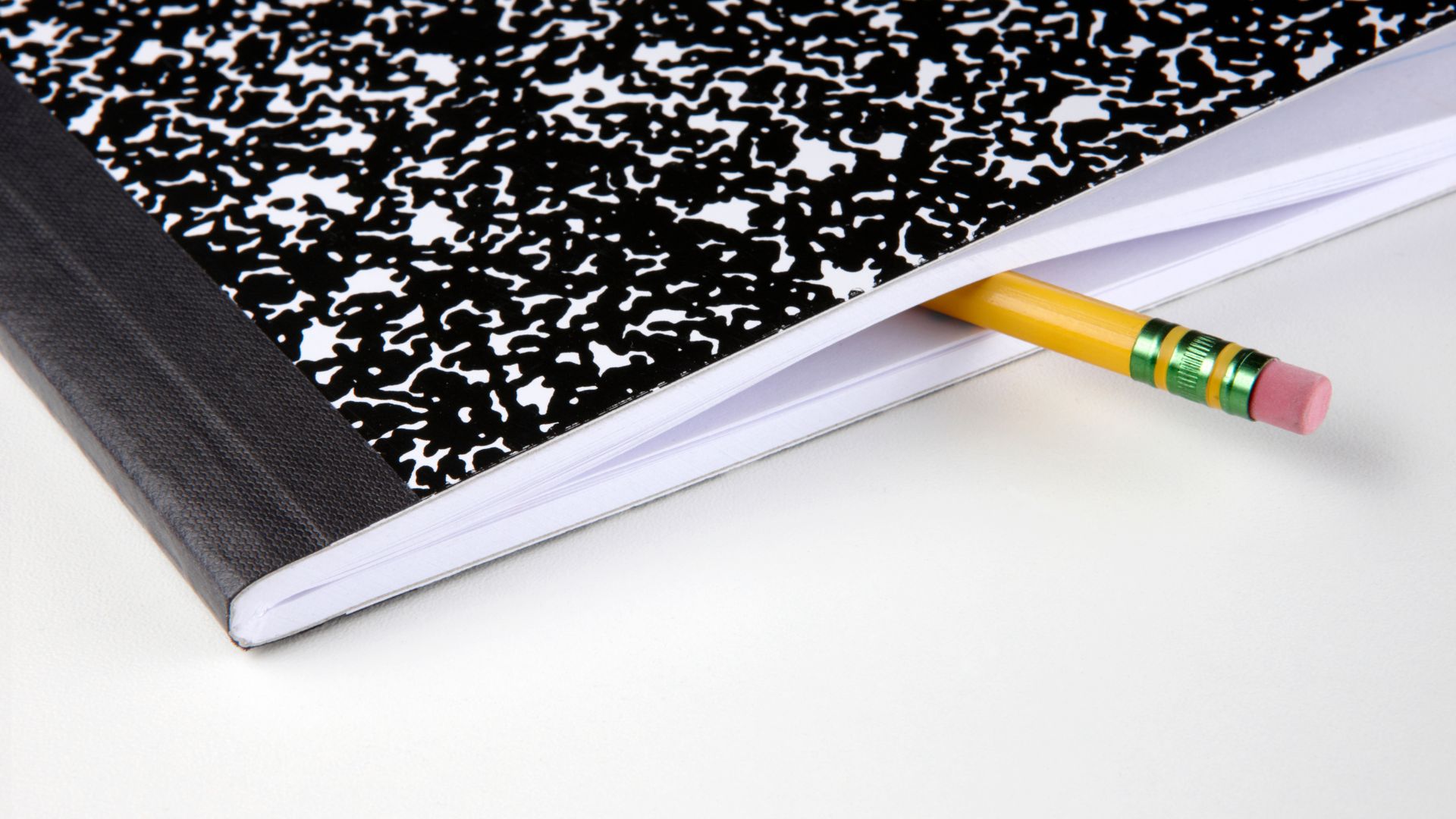 Composition notebooks have been the gold standard of notebooks for kids throughout their school years. From elementary to high school and beyond, the reliable composition notebook has been there for all of your educational and creative needs. How can students make the most of their composition notebooks and set themselves up for success?

Classic Composition Notebooks and Their Organizational Uses
We can all agree that composition notebooks have everything students need for a successful school year. Have you ever considered their versatility? Here are some helpful tips for parents and students that provide an exciting twist on the trusty composition notebook.

Cut Your Composition Notebook in Half
Save time, money, and paper with this unique hack.1 How often do you see kids using the entire page of their composition notebook? This is why parents are taking advantage of this helpful tip and cutting their composition notebooks in half. These half-sized notebooks are perfect for tiny hands and enthusiastically messy creatives.
To cut the book in half, either DIY it or bring it to your local print shop. Even spots like Home Depot2 will only charge 25 cents to customers who request their table saw services. Get crafty and double the number of notebooks for your young learner!

Stay Organized and Use Tabs
We often think of binders as the only true organizational tool for important documents, notes, and papers. The composition notebook shouldn't be underestimated for its organizational prowess. Making your composition notebook an organizational haven is quite easy. Simply use monthly tabs3 or even sticky notes4 to divide your book into sections. You can divide the pages evenly depending on how many sections you require. Tabs can be labeled as different subjects, topics, or months for the most efficient use of your book.

Use the Built-In Schedule in the Back
Many people don't think to use the built-in schedule in the back of their composition notebooks. However, this is a useful tool, especially for busy students. Make copies of this template and paste them into your notebook for all of your planning needs. You can even designate a specific section for planning and scheduling, so you know where to find vital information! Never miss an assignment, appointment, or event ever again.

Cut the Upper Corners of Pages
Not a fan of dog-earing pages? Don't have time to create or purchase a bookmark? Try cutting the corners of pages to mark important notes, chapters, appointments, or assignments with scissors. You'll spend less time searching through endless pages, and more time focusing on the important tasks that matter.

Creative Tips for Wholesale Composition Notebooks
There are countless creative ways to customize your composition notebook to meet all your needs and preferences. Here are some more colorful tips to make your notebook your own.

Put Colorful Tape on its Spine
Ever misplaced your notebook or taken the wrong one home? We're with you. Perhaps most students in your class have a black-marbled composition notebook. Make your notebook your own and put brightly colored5 or neon tape on its spine. What color screams "you?" Is it bright pink, neon yellow, baby blue, or even glitter6 duct tape? There's no need to lose important information. Make your notebook as distinctive as possible.

Use a Bookmark
Mark your spot, and don't forget where you left off! School gets busy, life gets overwhelming, and it's easy to lose your place in your notebooks. You can embark on a DIY7 project to customize your bookmark to your liking. Create your own bookmark using supplies you have available. You can use paper, markers, or even use natural elements like pressed flowers.
Consider using a ribbon as a bookmark, too. Simply glue the ribbon straight onto the inside or outside cover of your composition notebook. Move the ribbon to the spots where you left off, so you never miss a beat while taking notes or marking assignments. You'll have a built-in bookmark for safekeeping.

Use Different Colored-Pens for Notetaking and Aesthetics
Color-coding important information is a great studying technique. When you use distinctive colors to take notes, it's not only eye-catching, but it's also helpful. Create a key8 in your notebook and identify the meaning of each color. For example, you can use different colors for different subjects. Students can also identify which colors are used for important definitions, assignments, statistics, or due dates. Make sure to take notes first, and then color-code afterward!

Decorate Your Notebook
Remember, your notebook is yours to enjoy! Learning and organization don't have to be boring. Customize your composition notebook with stickers, markers, pictures, and so much more!

Your Composition Notebook Should Feel Like Your Own
No matter how you use your composition notebook, use this school staple to the best of your capability. Are you a fervent writer, notetaker, or enthusiastic student? If you're looking for wholesale composition notebooks9, look no further than Wholesale Sock Deals. We have everything you need in bulk for less money. Save time, trips to the store, and money at Wholesale Sock Deals.

References:
2. Home Depot
8. LeverageEdu